One of my absolute FAVORITE blogs to read is
I Heart Organizing
. I have been following Jen for a while because she is so adorable, so organized and so put together...I just love all her fresh ideas and if I could hire ANYONE (besides Martha Stewart) to come decorate and organize my house...it would be her :-)
Well this week, she is having a fabulous link party that is right up my alley and I thought it would be fun to join in!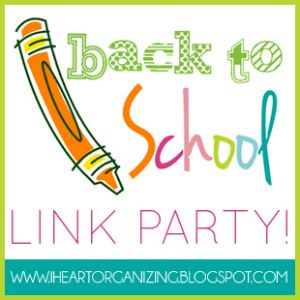 This week on her blog, Jen is sharing all of her amazing back-to-school organizing tips, along with a lot of great free printables. And since free printables are sorta my thing...I though I'd share one of my own this week for the link-up!!!
If you've ever visited Jen's blog before, you know that she already created a fantastic morning and bedtime chart for her kids (and many of you may have already pinned them on Pinterest). I actually printed the
bedtime chart
for Addie ages ago because it follows our usual bedtime routine.
And even though my kid's sleep schedule is going to take some serious work over the next week or two, our biggest challenge this school year is going to be our morning routine. Addie is in school 3 days a week and Blake and I are going to have our own schedule to follow. This summer, the kids have had the luxury of staying in their jammies until 10:00am (or all day), we've missed some morning teeth brushing sessions, and we are still working on the potty training with Blake (and still having to remind Addie to go before we leave the house). So as much as I would love to just use Jen's fantastic morning chart, I needed to make one that suits my younger kids just a little more. For example, getting dressed is the last thing we do before leaving (because between brushing our teeth and eating breakfast...the kids are sure to slop on their clothes). Going potty is also towards the end of our routine so that we can take care of that right before getting in the car. I also added one little morning chore because I think making their bed is something they can both handle (or at least we will see :-)
Also, you will notice that my chart has spaces for either check marks, smiley faces or stickers. My kids are VERY sticker-motivated and I thought it might make the routine that much more fun for them.
So here is a peek at the charts I made for the kids. I made them their own, of course, because they will want to put on their own stickers or check marks :-)
And if you have toddlers/preschoolers in your house that aren't quite in full-time school yet, hopefully you will find this Good Morning Chart helpful too!! So with that in mind, I also created some blank charts that you can
download here for a girl
and
here for a boy
!
Happy Back-to-School everybody! Be sure to check out all of the other AWESOME back-to-school organizing links on
Jen's post
. My printer is gonna be busy today :-)