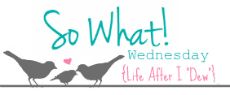 This week I'm saying SO WHAT if:
* My entire family has strep throat, including me. We've been able to wear PJs for the last 48 hours and eat as many popsicles as we want.
* I cried 3 different times watching the Olympics last night. I cried for the sweet Russian girl that blew it on her floor routine, for our AMAZING Women's Gymnastic team and for Michael Phelps. He deserved to be on the podium last night.
* I stayed up WAY later than I should have because I watched all of the Olympics and realized I still had an Etsy order left to finish.
* I ate 9 Oreos last night. They were reduced fat though...
* I'm one of the only teachers looking forward to back-to-school. I miss being on campus and I miss the routine of the school year.
* I haven't read one book this summer. I downloaded 5 different books on my Nook in June and I haven't made it past chapter 4 in the first one.
* I'm over summer. There...I said it. I am sick of the heat and looking at my ugly dead grass. I want pumpkin spice lattes, sweaters and boots.
* I'm looking forward to cleaning my house today. It's the first morning I've felt back to normal and I can't wait to clean and disinfect every square inch of this place. If the kids let me.
Happy Wednesday everyone!