Did you know that January is National Organization Month? Well...even if you didn't...odds are you have organizing on the brain. I know Spring cleaning doesn't typically begin for a few more months, but once the holidays are over, I start looking for ways to simplify and organize my life. Out with the old, in with the new.
But WHERE does one begin with a whole house (and life) to tackle? Every year, I go in search of new books, blogs and websites that offer some guidance in that department. Whether it's just a monthly challenge to kick off the year, or a more detailed plan to get you organized throughout the year...I am always looking for new inspiration.
This year, I have come across some great stuff that I want to share with all of you. First up...one of my favorite authors, Jennifer Tankersly, has just published a new ebook in her 100 Days series called
100 Days of a New Year
.
This book is "a journey that leads you through 100 days to a more focused you." Here is a little peek at Day 1 so you can read more about what this book has to offer.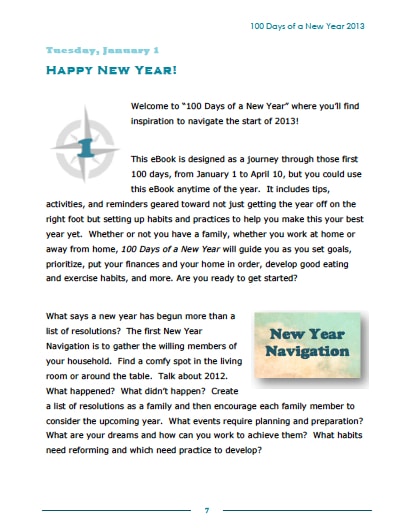 I was given the opportunity to review this ebook a little early and let me tell you friends...if you are looking for inspiration and motivation this New Year...this is the book to read!! Every single day focuses on ways to help you set new goals in all aspects of your life, how to successfully budget for the year ahead, and how to effectively clean out and reorganize your home. And like all books in the 100 Days Series, Jennifer doesn't forget to include holiday planning and preparation.
This year, my biggest goal is to live more simply on a MUCH tighter budget. Eric and I experienced a very Clark Griswold moment this Christmas when we found out that instead of receiving his usual end of the year bonus, he was enrolled in the Jelly-of-the-Month club (figuratively speaking). Although I had a few Cousin Eddie moments too, and dreamt about driving our camper up to his boss's house and tying him up in Christmas lights, I realized that his boss is hurting too this Christmas. Times are tough for a lot of people and if not getting a bonus is the only thing we have to worry about as a family...I will consider us pretty damn lucky. Life isn't about "stuff" anyway. It doesn't matter how many Pinterest-worthy home projects you can afford, how many vacations you can take, how many fancy clothes or shoes you have in your closet...all that matters is that you have your health, your family and a warm place to call home. I want to do a better job remembering that every day this year.
In
100 Days of a New Year
, your challenge is not just to clean, organize and plan...it's also to question what you want out of 2013. What habits do want to break? What are your goals for Mental Stimulation? What area of yourself do you want to work on? The book does just what it says...it helps you be a more focused YOU. This ebook also has a great
Facebook page
that I strongly encourage you to like because the community of people reading the book are wonderful. I participated in a Facebook party last night and had so much fun reading others goals and plans for the new year.
This ebook is available now for both NOOK and Kindle, or you can download a PDF copy for your computer. The fun begins January 1st so make sure you get your copy and all of your lists ready to go!!
And while you are putting together your calendar for National Organization month, be sure to check out
OrganizedHome.com
for their Post Christmas Clean-Up Checklist. They have awesome suggestions for tackling all the Christmas clutter BEFORE the new year even begins :-)
Also, PLEASE check out this fabulous website I've been following for a while now called
OrgJunkie.com
. Some of my printables were featured on her site a while back and I LOVE all of her fabulous ideas. Laura and a group of other bloggers are actually hosting a fabulous challenge in January called...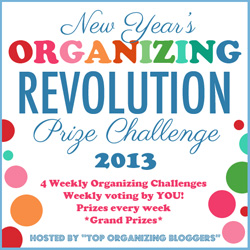 The goal is to tackle one area a week, take pictures, link-up your before and after progress, vote, and hopefully WIN some fabulous prizes!!! She has a great calendar you can download too.
I LOVE taking before and after pictures of my organizing progress...especially so I know how to put it back together after the kids (or hubby) trashes it :-) I think this will be a super fun link-up party and I am really looking forward to getting started!!!

So...is everyone feeling as motivated as I am right now??!!! What is your biggest goal for 2013??