Every year, I try to come up with another fun new way to count the days of Advent. I love the beautiful fabric Advent calendar my mom made so we always count the days with Mr. Penguin. Before the kids, Eric and I would put scratch-off lottery tickets in each pocket and when the kids are a bit older, I will probably slip daily treats in each pocket for them. We don't have excellent self-control around here yet so I can't trust these two to not pull every treat out on the first day. So until then...it's just Mr. Penguin.
Last year, I also got the kids some chocolate advent calendars to open and they loved those...but definitely not as much as the Advent calendars I got THIS year!!
When I told my friend Michelle that Addie was obsessed with Lego Friends...she told me that they make a Lego Friends Advent Calendar that comes with a little figure or project to put together each day. HOW AWESOME!!!! I ordered it that day...and then realized that I had to get something for Blake too. He is still young for regular Legos, but I found his Advent Calendar on clearance from 2011 and it was dirt cheap. SCORE!!! These are the darling sets.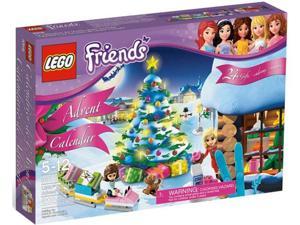 Of course we had Toodles the Elf leave these for the kids that night.
Advent Day 1: Begin our Advent Calendars
Advent Day 2: Watch The Grinch and Eat Popcorn
I just can't tell you how much I appreciate ABC Family's 25 Days of Christmas. Having a movie to look forward to EVERY night before bed is priceless. We love the Grinch...and pretty much every movie that follows :-)
Advent Day 3: This one's for Mommy
Okay...so I didn't actually write that on our Advent Activities Calendar, but it just so happened that my holiday Girl's Night Out fell on that date. Woohoo!! We all met for some much needed Christmas therapy.
The most exciting part of girl's night was when my friend Barb won a VIP table for next Monday, which means they will invite us all back for a free dinner. So I get TWO Girl's Nights this month. Merry Christmas to all of us :-)
Advent Day 4: Call Santa
I have the most hilarious app on my iPhone that calls Santa directly at the North Pole and the kids can tell him over the phone what they want for Christmas. We already wrote our Christmas lists on paper and we will hand deliver those when we go to visit Santa in person. But in the meantime, since my kids LOVE using my phone, I thought it would be fun to give Santa a little ring. Plus, we had to report some VERY naughty behavior from our elves :-)
Advent Day 5: Visit with Auntie Mawee & a Christmas Program
The kids had a SUPER fun day yesterday. Auntie Marie came over for our annual Christmas exchange and the kids smothered her with hugs.
I mean...until she gave them their gifts and then the paper was flying everywhere.
As usual, Marie spoiled all of us beyond belief!!! She got the kids tons of great stuff but the most special gift for me was a genuine opal necklace from Australia. It is GORGEOUS!!! The kids and are so so lucky to have her in our lives :-)
After Auntie Marie's visit, we headed to Nia and Nolan's Christmas Program!!!
These kids were too sweet. Nia did FANTASTIC with her little solo and Nolan shook his booty just like his mama during the Holiday Hokie Pokie. I was so proud of both of them.
December is off to a GREAT start for us!!! And there is so much more fun to come...including a special holiday playdate today. I guess if we are going to leave the house, it might be a good idea to put some clothes on this kid.