There is really only one thing on my mind this week, and it only seems appropriate to share my feelings on this post.
I am not exactly sure when I first started referring to myself as a runner. It may have been when I finished the Couch25K, or when I crossed my first finish line, or even when I took my first steps out the door. Regardless of when it was, the fact is...
I AM a runner.
I run because it makes me happy. I run because it takes away the crazy. I run because it keeps me healthy. I run because it's in my blood now. It's part of who I am.
Other runners can relate. We all run for the same reasons and it doesn't matter if we can run 1 mile or 1 marathon...we are untied.
So when my friend Barb called me on Monday and told me about what had happened in Boston, I was in shock. Just a week earlier, I was crossing my own finish line in a big city with thousands of other runners. My finish line was packed with people cheering on their friends and family. Moms, Dads, grandparents, children...holding big signs and clapping their little hearts out. I remember the feeling of rounding the corner onto Michigan Ave., where the crowd gets thick and the cheers get louder. I remember saying to Tom that this was my FAVORITE part of the race. Not just because the finish line was within our reach...but because the energy was overwhelming. The euphoria you experience in those last few minutes of any race are priceless. Those moments are worth all the training, all the sweat, all the tears and all the hard work. And for me, that was all just for a little old 8K.
For those Boston runners...this was THE race. A race that some have been training for their entire lives. A race that most runners will never have the opportunity to run in. I can't imagine the sense of pride those runners feel as they run down those historic streets. And to have all those moments taken away from them by one senseless tragedy breaks my heart. And none of them will ever be the same again, especially if they or someone they loved were injured or killed that day. How do you come back from that?
I've only seen or heard a few interviews with some of the Boston runners this week but when each of them were asked how they planned to process and recover from this tragedy, they all responded the same way:
I've been so moved by all the organizations across the country that have been encouraging people to not only donate to Boston, but also to get out there and #runforboston. I even got an email today from my local running store letting us know that they are putting together a solidarity run on Monday.
I really wanted to get my hands on the tribute t-shirt that Adidas just launched but as of last night, they were already sold out.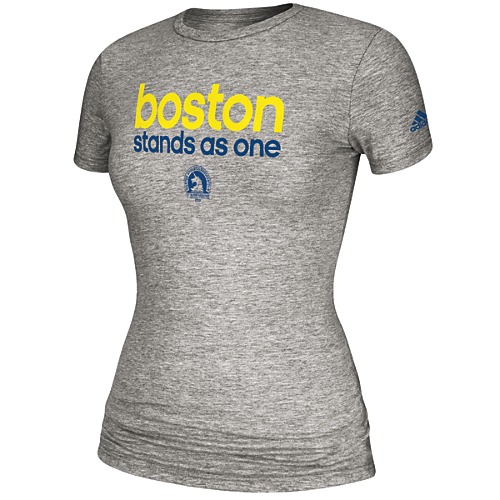 I am so so proud to be a part of the running community and I think it's wonderful that SO MANY people in the US right now are taking up running just to show their love and support. What a perfect reason to lace up your shoes and take your first strides. I can only imagine how many finish lines will be crossed this year in honor of Boston.
We stand as one.