It's no secret that I love to organize. I post about organization allllllllllll the time, which may lead some to believe that I am an incredibly organized person. Although I do try VERY hard to be organized, the fact of the matter is...I am a mom. A hot freaking MESS of a mom who is always searching for car keys, missing important appointments and running around town with coffee on her pants.
I know I will never have it all together, but that doesn't mean I am willing to stop trying! I love making binders and checklists and printables and when I can find the time to read...I LOVE following along with books like
100 Days of Summertime
.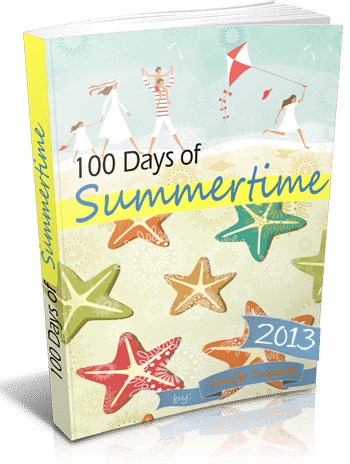 I first became a fan of Jennifer Tankersley in 2010 when I bought her eBook
100 Days to Christmas.
That book completely changed my way of planning and organizing for the holidays. My gifts were purchased early, everything was wrapped before the first snow had fallen and I didn't forget to mail out a single Christmas card. In addition to all that, I ended up making some wonderful new traditions for my family and spent a lot more time
enjoying
the season.
In 2012, Jennifer added a new book to her collection titled
100 Days of Summertime
and I was BEYOND excited. I was flattered when Jennifer asked me to review it and I followed along faithfully all summer. By September I was prepared for back-to-school, my house was organized and de-cluttered and we were ready for our new routine. We also made sure to enjoy fun holidays like
National Ice Cream Day
and schedule plenty of family time. It was a fantastic summer :-)
So this year, when Jennifer asked if I was interested in reviewing
100 Days of Summertime for 2013
...I jumped at the chance! Seriously...I couldn't respond to her email fast enough :-)
For the last two days, I have been glued to my NOOK reading through all of the wonderful activities that Jennifer has planned for this summer. Many of them were part of the eBook last year but strangely...they all feel new to me again! For example, I remember reading about Summer Camp at Home in last years book, but felt like Blake was still a little young to grasp the whole idea. But with preschool on the horizon for him and Kindergarten on the horizon for Addie, I think it is important to incorporate some learning and school-like activities into our summer routine. I love Jennifer's idea of making different "theme weeks" throughout the summer and scheduling activities and outings based on those themes. To help me plan, I went ahead and made some fun summer calendars to put on our fridge and I will share them with all of you as long as you promise to post and share some fun theme ideas with me :-)
If you read my blog at all, you know that camping is a HUGE part of our summer so another thing I really love about this book is how Jennifer includes the
Great American Backyard Campout
, as well as a day strictly for gathering camping supplies and spending time in the great outdoors. Camping is, without a doubt, one of the BEST family bonding activities ever. It's an opportunity to shut off your phone, TV and computer, get away from the hustle and bustle of everyday life and just have fun the good old fashioned way. Get dirty, catch some fish, build a fire and eat nothing but s'mores for dinner :-) The eBook has a great hyperlink to some camping tips on ListPlanIt.com and if you would like to start your own camping binder like me,
here is a link
to all of my camping printables and checklists.
I know the goal of summer is to relax and go with the flow...but I simply can't handle last minute preparation before going back to school. Between getting the kids ready to go back and getting myself ready to teach my own class, I like to have all my ducks in a row. So perhaps the thing I love BEST about this eBook is that it keeps you on track with little back-to-school tasks the entire summer. By the time Labor Day rolls around, you will be refreshed, organized and ready for a great school year! And best of all...you will have a million wonderful summer memories to look back on :-)
So...have I sold you on this fabulous eBook yet?
100 Days of Summertime 2013
is ON SALE now for only $5 and you can download it to your Kindle, NOOK, iPad or computer. And while you are at it, be sure to Like
100 Days of Summertime on Facebook
and join in on the discussion all summer long!
A huge
THANK YOU
to Jennifer Tankersly for giving me the opportunity to be a reviewer again this year. I can't wait to get started :-)